Gihan Amarasiriwardena on inventing apparel that drives the industry forward
Gihan Amarasiriwardena is the co-founder/president of Boston-based Ministry of Supply, a sleek and modern brand of performance professional apparel that launched in 2012. Gihan shares how he and his colleague, co-founder/CEO, Aman Advani, both MIT students at the time, shared a desire to create professional apparel that had the same performance benefits as their favorite athletic pieces. We learn how the brand got its start, the significance of its name and the role materials, attention to design and fit play into each and every piece to make the apparel scientifically better. www.ministryofsupply.com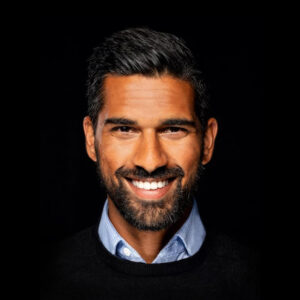 Transcript: Gihan Amarasiriwardena Interview
Nancy: My guest today is Gihan Amarasiriwardena, co-founder and president of Ministry of Supply, a sleek, modern brand of what Gihan calls – performance professional apparel.
Gihan and colleague, Aman Advani, who is CEO and co-founder of Ministry of Supply, created the brand out of their mutual desire to invent professional apparel that was scientifically better than anything on the market. They wanted the apparel to have the same performance benefits of their favorite athletic pieces – moisture/odor management, temperature regulation, stretch and durability – while looking suitable and stylish for the workplace.
All this began when Gihan and Aman, both students at MIT at the time, were hacking their own apparel prototypes independently of one another. Gihan was cutting up running shirts and making dress shirts out of them and Aman was taking the bottom out of his Dri-FIT socks and sewing them to his Gold Toe socks. A MIT professor recognized that they were both working on the same problem and introduced them to each other.
In 2012, Boston-based Ministry of Supply launched with a wildly successful Kick-Starter campaign introducing its Apollo shirt that features the same phase- changing or temperature-regulating materials used by NASA astronauts in their apparel. 
With sustainable performance and a contemporary aesthetic in mind, the brand has expanded into a full collection of professional apparel for men and women designed to comfortably fit and move with your body.
To attest to that, Gihan and his fiancé have set the Guinness World Record for fastest man and woman to run a half marathon in a suit (a Ministry of Supply Suit, of course).
Today, Ministry of Supply has six stores located in major cities across the U.S. in addition to is online site. The stores play a critical role in educating consumers about performance materials and apparel – encouraging them to try on a product and learn about it. The company also publishes a blog called ScientificallyBetter.com that helps explain materials so people can be better educated when buying apparel. 
In our conversation, Gihan shares more about his background, how Ministry of Supply got its name, the brand's sustainability views and the community it has built. He also gives us a glimpse into the future of the brand's design development – specifically the use of active textile tailoring where garments can be robotically tailored after the fact. 
I want to apologize in advance for the sound quality of this episode. We had some technical difficulties with the equipment when recording in the Ministry of Supply store and you will hear some interference. The full transcript of our conversation are in the episode notes on the Material Wise website along with links to several of the organizations and blog Gihan calls out.
Thank you so much for listening! I hope you enjoy!
—
Nancy: Gihan, thank you so much for inviting me to your beautiful store on Newbury Street, and for being a guest on Material Wise.
Gihan: Thanks for having me.
Nancy: I'd like to start by asking you a little bit about your background and how you got started in design.
Gihan: Yeah, I grew up as a Boy Scout here in New England, and I was going camping pretty much every month. One of my favorite things was to go to EMS or REI and kind of peruse the performance gear racks. I fell in love with Polartec and with GORE-TEX and used this gear on my kind of monthly camp out. Over time I started thinking, it would be interesting to start making my own. With a couple of my friends in my troop, we started taking Tyvek actually, and laminating that to fleece and making our own windproof breathable fleeces.

Actually, our very first ones , we were actually taking trash bags and laminating them to fleece, and we quickly realized the value of waterproof breathable membranes instead. It was kind of that first introduction to performance materials.

I just kind of fell in love with the idea of using materials to unlock performance. When I went to college, I studied chemical and biological engineering at MIT and I thought I wanted to startup – kind of like an outdoor gear company or performance materials company, and with most things, there's a kind of a point of inspiration and a pivot. Living in the city – moving from rural, Amherst, Mass, to Boston – I realized that there was this opportunity to bring that performance to what you could wear in the city, what you could wear to work, and I wanted to bring that performance to what I could wear every day.
Nancy: Wow, that's great. Yes. I'm sure you did. Plastic isn't that waterproof, or isn't that breathable, excuse me. Was there a defining moment that made you feel as though there was a need for performance and casual apparel or actually call it work apparel?
Gihan: Work apparel, yeah, so we focused on creating a category we called performance professional. Having run cross country and track from middle school all the way through college, I witnessed the transition from cotton running shirts from Dri-FIT to Under Armour, and seeing how big a difference that made. It was night and day. In the same realm, that was kind of as we were going into our professional lives, realizing that technology hadn't ported over. People were still having sweat stains, lack of stretch, and  they selected to dry clean and iron their clothes every day. These are things that had been solved before in other sectors, but it hadn't been ported over (to professional work apparel).

My co-founder was actually challenged with the same problem. Aman was a consultant and he had been going to client sites every week and fly out every Monday morning.  For him, his challenge was socks. He would actually take Nike Dri-FIT socks, cut the bottoms off of them, sew them to Gold Toe dress socks. So ,we were finding, we were both kind of hacking apparel. I was cutting up running shirts, making dress shirts out of them, and we were both at MIT, and he was at the business school, I was in engineering school, and one of our professors said, "You two are both kind of peddling your prototypes, working on the same exact problem," and he introduced us. So yeah, that's kind of how it started.
Nancy: Oh my God, that's so serendipitous.
Gihan: Yeah, yeah. We're very lucky. That's where that kind of experiences of materials development and then also kind of use case kind of came together and that was the impetus for brand.
Nancy: Oh, that's amazing. Speaking of the brand, how did you come up with the name Ministry of Supply?
Gihan: Yeah, it's a really good question. Our company name, Ministry of Supply, is actually inspired by, if you've watched James Bond movies, Bond always goes and sees Q before his mission starts and Q gives him his gear. It turns out that Q is based on a real person named Charles Fraser-Smith and his cover was the British Ministry of Supply, and he designed gadgetry and clothing for the British Special Ops. We kind of see ourselves as Q's labs designing gear for people on a mission.
Nancy: I can just see it. I did not know that. That's really interesting. You started with men's and now you have women's, as I'm seeing in the store, who is your customer do you find?
Gihan: Yeah. Our core customer is really we never really a single demographic, but rather it's a lifestyle, often times, of a person in their career who's at that point where they're looking to connect the different parts of their day, whether it's staying fit, it's their personal pursuits, and also their family – and then that they're really passionate about their work as well. Previously we would have different outfits for each of those different spheres. Kind of the goal of MOS, is that our clothing can become a tool to connect those different parts of the day.

I mean, there's this constant story that we hear over and over again, and it sounds like it's not, but it's actually, it's a true one that we hear all the time, which is, I get home from work at 6:30, and my kid goes to bed at 7:30, and there's 60 minutes there. If I'm spending, 10 to 15 of those just changing into a T-shirt and jeans, that's 25% of my time lost. It's those moments that the product really stands out. We think that as you go from a red-eye straight to the work day and it feels like you've been wearing sweat pants on the flight, and then you feel fresh and you look sharp when you get to the office and stuff. Those are the types of things, those moments, where the product really makes a difference.
Nancy: I'm seeing it more and more where, we can talk about this a little bit later, but wearing more, packing less, having things that have multiple applications, and the whole athleisure side, but then there's probably a word for professional apparel that can … I don't know if it's commuter apparel, whatever. Ministry of Supply got its  start online – and now you have how many stores?
Gihan: We have six stores across the US, plus our online store.
Nancy: Wow, congratulations.
Gihan: Thank you.
Nancy: How do they benefit or complement one another?
Gihan: Yeah, we started online, but one of the things that we realized was we'd always had these popups, and that there was this incredible interaction that happens when you only have the little store that customers can looking to see the product, they can feel it, they can try it on. For a lot of our customers it's about dissuading any doubts they had about what does this feel like? These are materials that are not cotton, it's not always just traditional wool suiting. These are materials that have great four-way stretch. A lot of times people are wondering, is this going to look as sharp as my suit that I have in my wardrobe? These are amazing moments to see firsthand.

We also think an important part of our role as a company is to educate people about performance materials and performance apparel. That's what our stores are really meant to do. It's really about being able to try a product on, but also learn about it. Our stores play a critical role in that. That being said, our stores all stand on their own two feet and that's something that we think is important. That in a time where there's a lot of questions around what's the role of retail, we want to make sure our stores have a purpose, and in our six locations they are really driving the market there. That's something that we thought is real important.
Nancy: That's great. It's like coming in for an experience that they might know about the product but then actually, with the brand, but to come in and to feel it and touch it because fashion can be more emotional or the shopping can, but there is a real technical story to it, which needs some explanation, but not get so bogged down with it. Speaking of materials, which we have a mutual love for, before we get into sort of the materials per se, I'd like to talk a little bit about the design. Are there any important design principles that you and your team follow for the collection?
Gihan: Yeah, I mean, when we think about our process and our development, one of the key things is we believe in what we call quantified empathy. It's this process that we've developed, which is really about starting our design process rooted in customer challenges or opportunities. We have these eight tools, ranging from customer interviews to the fact that every single interaction with a customer through email or through Facebook and others, what we're doing is we're basically categorizing those comments and understanding, was this a fit issue with our product? Was this an issue with regard to durability? We can basically understand which of our products have opportunities for improvement. We think of ourselves a little bit more like a car company where we have a few key models that we iterate each year, and that we improve rather than trying to kind of redevelop everything from scratch each time.

The reason that's important is that when you're doing a completely new style, sometimes you're not necessarily building off of the knowledge of the previous version. You can see here in our store, we have mostly blues and grays, kind of traditional selects, but with these tweaks that kind of reinvent them. What we want to do is kind of create the foundation of your wardrobe, the pieces that you can rely on that you can build your outfit on. That's kind of the mantra of the design.

Jarlath Mellet, he's our Design Director. He was formerly Design Director for Brooks Brothers, Theory, and so you can see it in the style of our products. They have really clean, modern, contemporary, but at the same time, our fit is really one that's really meant to kind of move with your body. That's a different element of our garments. We don't look at fit just from a, what does that look like on a mannequin when you're standing straight, but look at fit in terms of how does it feel and how does it look as you're moving and we think that's really important.
Nancy: Absolutely. I know – you can ride your bike in your suit on the way to work if you want and still look fresh when you go into the office. It also gives you opportunity to accessorize as a woman. You can wear these lovely, rich colors but accessorize with something that will make you personalize it.
Gihan: Yeah.
Nancy: How do materials come into play? I mean, obviously you've done a lot of studying and work on your materials.
Gihan: There's kind of a couple of pillars of challenges that we've looked at. It's moisture management, it's mobility and stretch, it's ease of care, so does it look good throughout the course of the day? Does it cause wrinkles? Then also, what does it look like when it comes to out of the wash, out of the dryer? We're really trying to minimize care. We look at these lenses as ways of improving the materials. I'll kind of use a couple examples. One of our more key products is our Apollo dress shirt. It's the one that we started the brand with. It is a dress shirt that is a knit material and then it's basically a polyester yarn with a paraffin wax core. That paraffin wax can actually, it's a different type of paraffin that melt and freeze right around your skin temperature, and through a process called phase-change.

It's called phase-change material. Basically, if you're walking outside and you're going to grab coffee, it's hot out, it'll actually melt and through a melting process absorb your excess body heat. Then when you come into kind of like an over A/C'd office, it actually freezes and releases that heat back to you. It's kind of like a rechargeable battery for heat and it works automatically, and it's built into the core of all of our Apollo shirts.
Nancy: That's what you started with your Kickstarter, which should actually win a Guinness World Book of Records for successful Kickstarter launches. Oh, my goodness. It feels great, so you don't even feel the technology really in the shirt.
Gihan: That's something, you'll see when you kind of walk into the store, we've got a NASA moon picture right here over our changing rooms. We also have a lot of NASA signage, and actually, in the front of our store, is  a NASA spacesuit, and that is a nod to the fact that the phase-change materials were actually designed for the use of glove liners. NASA uses it for astronauts because the extremes of space, it's 240 degrees in the sunlight and it's simultaneously -140 degrees in the shadows, and so they were using this material. We look for material inspiration from all sorts of ideas. In this case we're looking at one of the labs we work with is the Human Systems Laboratory at MIT. We were kind of exposed to this material through our work with them. It's now a core part of our product line, so that's one of our materials.
Nancy: Great. Thus, the name of Apollo.
Gihan: That's Apollo.
Nancy: Yeah, yeah. That's amazing.
Gihan: Then another material is our Kinetics. I'm actually wearing our kinetic pants right here. It's available in our pants and our blazers, as well as some dresses for women as well. But in this case, it's actually a bi-component yarn. It's part polyethylene, part PET, another type of polyester, but what's really interesting is as you extrude it, it creates a spiral effect into the yarn fulfillment. That creates natural elasticity. We use that kind of natural, elastic yarn, it's actually made out of 17% bio-based PET.
Nancy: That's good.
Gihan: Yeah, and at the same time we're also using warp knitting, which is it's kind of like a knitting machine, but it's also kind of like a weaving machine, same time weaving them in so you get this great structure you expect out of woven, but incredible four-way stretch.
Nancy: Yeah, it looks almost like a softshell type of stretch. It's so cool.
Gihan: It's something that we've kind of used as kind of a foundation of our product line. We're starting to see, we have these platforms, these platform materials that once we understand how to use it, we use it many times. It allows the customer to understand I love this material. I'm also going to understand how it feels in a different application.
Nancy: Amazing. With regards to materials, where do you turn to for material trend sourcing? It seems like you create your own or borrow from NASA, but are there any specific trade shows or conferences or do you seek out certain mills that you can work with that provide you with new inspiration?
Gihan: Yeah, in terms of inspiration, we look at a variety of different places. We kind of look at as a funnel, as a hopper, where we try to take in inspiration from the lab – with what are the far-out developments. Right now we are working with the Advanced Functional Fabrics Association of America. AFFOA is a research arm of our facility, based out of MIT, that's doing a lot of development around the next generation fibers and wearables. We have a research grant through AFFOA to work on shape-change materials with the self-assembly lab at MIT. That's where we're looking at kind of next generation fibers.

Then as we become a little bit closer, one of the big challenges with material development is scale – it's one thing to have something in small scale, but how do you develop it in volume? We think it's just so critical to have really great industry partners. We work with Singtex, Toray –  these are all kind of fiber mills and largely in Japan and Taiwan and we're pushing the forefront of the materials development all the way from the yarn filament down to the knitting and weaving of it.

It's a co-development. I think that's the key part is it's about finding what's possible with manufacturer and what are the needs that we have from a consumer standpoint, and developing that with our factories.

In terms of conferences, despite the fact that we make a lot of professional wear, work clothing, our favorite conference is going to Outdoor Retailer. That's kind of where that intersection happens where you're taking inspiration from the outdoor athletic market but then bring it to kind of wear-to-work clothing/casual clothing.
Nancy: That's great to hear. That's my favorite trade show, too. It's fabulous. Yeah, they've done a really good job with having suppliers in a really good area. There's a new trade show that you may have heard of called the Functional Fabric Fair Performance Days that's in New York, and now in Portland, Oregon. That's later this month. I'm headed back there actually in a couple weeks. Do you think that consumers have caught on with savvier materials and are willing to be open to … I don't want to say spending more money, but just adopting them for more professional apparel? Obviously, here we are in your store, that might be asking…
Gihan: No, I mean, I think one of the things that we can truly impart is that care labels can be misleading or fiber competence. We look at a material label, and it may say 100% cotton, maybe says 100% polyester, but there's so many different variants of all of these different materials. It's more than just what the polymer is, it's how the fiber's extruded, it's how it's knit, it's how it's processed. What we try to do, especially in our stores and online, is go that layer deeper. In this case, for example, our Apollo shirt, we were talking about the phase-change materials, they're embedded in the yarn. It's about talking about what does working fabric bring, explaining how the film and geometry, the fact that it's bi-component, the fact that it's extruded in this spiral shape, the fact that it's using morph knit construction, these are all layers that kind of get lost when you just look at it from a composition standpoint.

We think it's really important to explain that we do that through our store experience. Then we actually started a blog. It started as a kind of an internal conversation to kind of at first all to learn about materials. We started publishing it publicly actually this year. It's called ScientificallyBetter.com, and we basically every week put up a post around different material technologies and explaining terms like what is a waterproof/breathable membrane? How does waterless dyeing work? The reason we think that's important is because the more people understand the differences, they can maybe be more educated in the choices that they make.
Nancy: Exactly. Also, in the sustainability arena where that's such a big part of the conversation right now -when you say waterless dye, that's a big component in sustainability. Speaking of that, I've done some research ,and I know that you have a donation process, which is part of your sustainability platform. Do you want to talk a little bit about that and maybe some other sustainable practices?
Gihan: Yeah, so we've been a big part of having the minimalist wardrobe, really having to have those core elements that you can trust and can rely on. It's about taking that decision fatigue away. At some point you'll have, we call it "1 in; 1 outs." It was kind of – my co-founder had 10 hangers and he just wanted to have 10 hangers in his closet and no more than that. If you got a new piece of clothing, you would take one out and you would donate it. What we've tried to do is we've just tried to facilitate that process. Really, there's a lot of pieces where sometimes we move locations or we change jobs and it's great clothing, it's just a different work environment, different location. It's a great piece of clothing but it can be reused.

What we're trying to do is facilitate taking that clothing, actually creating outfits, and working with different organizations. Really here at Boston International Institute where we're working with different groups where people are kind of going into the professional field and helping outfit them. That's kind of one way we really focused on the use side of our garment program.

We're also looking at recycling and so that's something where a big focus of a lot of our materials recently has been about going to, in some cases, mono-materials. Like our Apollo dress shirt is 100% recyclable and that's something that we're excited about.
Nancy: Yeah, that's fabulous. I was just at this functional fabric fair in July, and the whole term sustainability means so much to different people. There's recyclable, post-consumer, pre-consumer, pre-industrial? I think that educating consumers with your blog is helpful. We'll put that on the show notes – the website for that.
I was actually introduced to Ministry of Supply at the Museum of Modern Art store in New York City, when I was visiting my daughter and it was the Mercury Intelligent Jacket (that caught my eye). I'm like, oh my God, this is so cool. That's a real smart parka or jacket. Can you tell me a little bit about that? Because that was your next Kickstarter campaign, right?
Gihan: Yeah, so the Mercury Intelligent Heated Jacket is a winter parka. It looks like kind of like you get a really cool skiwear, outerwear, designed for the city. But on the inside we've got three carbon fiber heating elements that are completely flexible. They run off of a USB battery, kind of any battery that charges your cell phone off of. But one of the things that makes it really unique is we've been so aware of the fact that it's not about staying warm or cold, it's about staying at the right temperature at the right time. That's what we learned through our years of development of shirts and sweaters. We wanted to take that a step further and in this garment we actually have two temperature sensors, one on the inside, one on the outside, to monitor your body temperature and external temperature.

But we also have an accelerometer in the jacket. The reason that's important is the best predictor that you will be hot is how much you've been doing. If you're standing at a cold bus stop, we'll turn the heat up all the way. If you're walking for a couple minutes, we know that you're going to be hot in maybe 10 minutes from now, and so we'll actually turn the heat down. Actually it's interesting, when you're standing still our core, kind of our waist up, produces about 50 watts of heat. If we're walking, we're creating about 100 watts of heat, same as a light bulb, and it's twice as much heat just when we're walking. So that ability for garments to have that fluctuation is something that we think is really important. That's an Intelligent Heated Jacket.

We've even taken the layer further, which is it has Bluetooth communication built into it, so it'll allows the jacket through our smartphone app … some people run hot, some people run cold, much like a smart thermostat, you can actually train the jacket and say, I'm too hot right now, or I'm too cold. It takes into account kind of how much you've been walking, what the temperature is in that location, or that kind of environment, and it changes the model so that it becomes more and more personalized for you. That's where we think wearables should go. We think it's more than just about health monitoring. We think that there's a great component there, but we want to see it be involved in clothes that we're in every day, and a big part of it is we buy garments, in many cases, for functionality, and a winter jacket, you're buying it for waterproofness, you're buying it for warmth, and so we think wearables should do a better job at keeping you dry or keeping you warm.
Nancy: That's great. It sounds so intuitive, and I've been studying a little bit about smart technology and I have a client that makes sensors for athletic apparel, and the fact that it allows you not to wear other devices to regulate your biometric readings. How's the jacket doing?
Gihan: It's do really well. We sold over 4,000 units last year through our Kickstarter campaign. The reason we've launched a couple of products on Kickstarter, our Apollo shirt and then our Mercury jacket, and we also have the socks. It's an amazing example of a community that really values technology and design. The community's so involved in helping us develop the product, validate our problem statements, giving us feedback with the challenges, and one of the cool things is because it's a wearable, actually, we can do over-the-air updates. Based on feedback that people were giving us, we're actually, after they bought the jacket, we were able to push updates so that they have increased functionality. It's doing really well – it's carried in the Museum of Modern Art stores.
Nancy: There must be such satisfaction to see that.
Gihan: Yeah, yeah, yeah, yeah.
Nancy: Oh my goodness. I'm not sure. I would assume that they're pretty picky about what they choose to put in their store. I do have a question about it though. When you launder it, do you have to take out any of the devices or the hardware or anything?
Gihan: Yeah, that's the challenge of wearables is laundering in particular. The only thing you have to do is you just pull out the battery, everything else is machine washable, the heating pads, the sensors, the microcontroller that's in there. We've worked with manufacturers that specialize in this kind of thing. They really think everything out to the last detail, and helped us really create a garment that is tested through 65 washes.
Nancy: Wow, that's amazing. You've taken technology very far, both with developing fabrics and the garments. You mentioned a little bit about working with MIT on fabrics in the future, can you give us an indication of what you might see in the next so many years?
Gihan: One of the things we've been really looking at is the ways in which you can use digital manufacturing to kind of improve the manufacturing supply chain, so material loss, but also functionality of materials. We've been doing a lot of what we call 3D Print-Knit. It's similar to whole garment knitting. We're working with Shima Seiki a lot. These are all materials that are made on a computerized knitting machine and allows us to control the composition, the structure, and allows us to create functionality based on how we knit the garment computationally.

When we're looking at data we ask if have we improved it? We launched this project about nine months ago, it's called active textile tailoring and we're looking at how can we mix this material that can be post-tailored, that can be robotically tailored. We did a demo of this on a mannequin on this sweater. We could fit into the mannequin using the robot. It's kind of these are the visions of the future that we have. Tailoring right now is actually quite difficult, particularly for knit garments, things like that. But if you can produce something in bulk, let's say in one size, but then tailored to anyone's body after the fact, that suddenly reduces obsolescence, it creates a better fit for the consumer, so it's something we're real excited about
Nancy: Potentially eliminating material waste. That's amazing. I'm wondering if I could ask you a few questions that are a bit more personal, not too, too personal, but just to get to know you a little bit better. What are your favorite materials?
Gihan: Some of my favorite materials, I've been in love waterproof/breathable membranes. I think they're one of the coolest concepts out there, and just the evolution that's happened, the evolution of PTFE, PU, I've always been interested in those. At the same time, I'm increasingly interested in how we can use bio-based feedstocks to create functional yarns. Much like polyester has kind of come into its own recently, it's evolved quite a lot from the Dacron in the 50s, right? Now, it's becomes high performance fiber that looks and feels like cotton. In the same realm we're interested in how we can use cellulosic materials to have similar functionality as these performance materials. I'm spending a lot of time with viscose and cellulose materials.
Nancy: Yeah, and they're also sustainable, right?
Gihan: Exactly.
Nancy: And feel amazing. What's your favorite Ministry of Supply piece?
Gihan: Probably my favorite piece that I probably wear at least (one a day) is one garment from our kinetic line. It's got amazing structure and it looks really sharp. I bike to work every day and so I wear it every day with that. My fiancé and I, we both actually ran half marathons in suits made out of it, and so we've set the Guinness World Records for Fastest Half Marathon in a suit for men and women.
Nancy: Oh, cool.
Gihan: You can actually see the photo over there in the store, yeah.
Nancy: Oh, my goodness, yes. Wow, that's great.
Gihan: That's one of my favorite pieces, yeah.
Nancy: We'll have to feature that on the show notes too. Beside your own brand, do you have another favorite?
Gihan: Yeah, I'm a big fan of Arc'teryx, I think just in terms of how they've really pushed forward manufacturing and materials and kind of thinking of the garments holistically that way, kind of pushing forward lamination bonding, but doing it a way that is really thoughtful and that's not superfluous. That's something that we think is really important.

We also take a lot of inspiration from Patagonia. I mean, I think, a lot of brands do, and I think the reason is that they are pushing the industry forward in terms of sustainability, but not the compromise of performance. That has been something that we've been really kind of focused on recently about, especially in an arena where there is a lot more turnover in clothing, so we're hoping to kind of bring that mentality to this industry.
Nancy: Yeah, both amazing brands. They've done so much. Do you have any trends that you absolutely love right now and despise?
Gihan: The trends that … We try to look at what are the macro trends, what are the timeless truths that in the computer space there's this idea of Moore's Law, which is basically the computers will get twice as fast every 18 months. Those are the trends that we want to focus on. One of the ones that we're seeing now is obviously kind of casualization of the office wardrobe, so what we're trying to do is figure out how can we make things seem increasingly comfortable that fit to the aesthetic of the office, but at the same time allow people to look and feel polished and sharp? That's where our brand has strength – the juxtaposition of the two.
Nancy: Yeah, that's a good trend. I think that, and it just, again, it allows you to buy less, wear more.
Gihan: Exactly.
Nancy: That's a big trend right now. I know you're an entrepreneur and entrepreneurs often have things that keep them up at night. If you are not, then I want to know your secret, but are there any things that are keeping you up at night?
Gihan: The thing that we're kind of super conscious of is how do we be responsible as a brand in terms of in fashion in particular, we're often at the whim of style trends, their changes in production markets. Those are two things. On the demand side, it's 'what is of the moment'? And then on the supply side it's there's a changing supply base right now, and we want to make sure that we're thoughtful in both of those, that ultimately, we're making our garments in an efficient manner to lower our footprint. But at the same time that we're also creating styles and products that people want. Because what we're trying to minimize here is obsolescence. We're trying to minimize how much waste is created from our system. That's the thing that we're trying to answer now.

We don't really say we're in the fast-fashion space. That being said, we know that it effects our product line and that's something that we're really focused on.
Nancy: Great, yeah. What are you most proud of?
Gihan: I mean, I would say it's probably our team. I think it's something where we have built ourselves as a brand that, it's like our namesake, it's kind of this invention laboratory, and a team that is able to kind of bring it to life and explain to the customers. I think that's something that we take a lot of pride in of moving the entire industry forward in terms of inventing apparel. That's kind of the mission of our brand. Our hope is that clothing, if we're still wearing the same clothes that our grandparents wore, that it's almost like what have we done right? Have we moved the industry forward? Have we made people more comfortable? Have we made their days easier? That's what we're really trying to do is make sure that clothing continues to evolve at the same rate that our laptops do, that our phones do, our cars do. That's kind of our mission and I think we've created a team system that allows that to happen.
Nancy: Yeah. That's great. I love that. Inventing apparel. That's great. Is there anything else you'd like to add or mention that we didn't discuss? Anything like what's next? 
Gihan: Yeah, I'd say that intersection of sustainable performance is what we're really excited about.
Nancy: Yeah. Well, thank you so much. I hope to see you at Outdoor Retailer, maybe this winter, but until then, I will continue to explore your stores, and we'll see you around.
Gihan: Thanks so much.
Nancy: Okay.
Gihan: I appreciate it.
Nancy: Bye-bye.
Links to organizations mentioned in podcast:
Human Systems Laboratory: https://hsl.mit.edu/
Advanced Functional Fabrics Association of America: http://go.affoa.org/
Scientifically Better blog: https://www.scientificallybetter.com